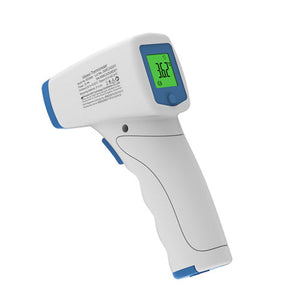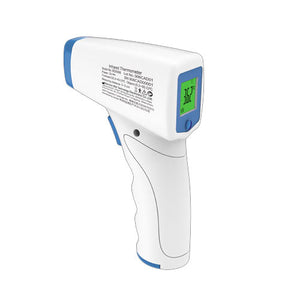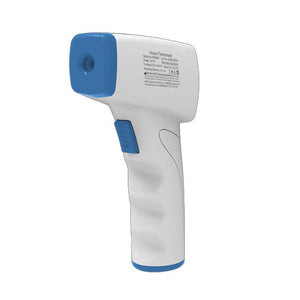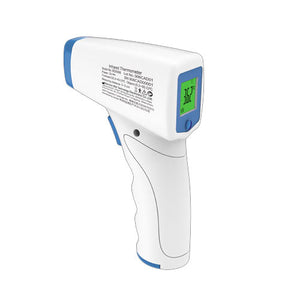 Non-Contact Digital Infrared Thermometer for Body TemperatureNon-Contact Digital Infrared Thermometer for Body TemperatureNon-Contact Digital Infrared Thermometer for Body TemperatureAIPL Digital Non-Contact Infrared Thermometer
Features of Infrared Thermometer
Instant Measurement
Get instant temperature reading right on your display. Measures reading within seconds to effectively manage long queues and ensure order. A highly sensitive infrared sensor ensures accuracy while performing speedy operations.
Optimized for the human body
Highly performance sensor provides accurate readings. Optimized functionality gives accurate results specifically for the human body.
Temperature Alarm
If the temperature of a human body is out of a certain range, your digital infrared thermometer will immediately raise an alarm to warn you of the irregularity. This aids you to keep your momentum while measuring long queues without missing out on an alarming reading. It is a vital function to ensure the safety of your customers and staff from the virus.
Contactless Reading (Upto 3 cms)
Your AIPL digital infrared thermometer never has to get in physical contact with anyone but you while measuring temperature. With a virus being a communicable disease that can spread through touch, a contactless reading can become the difference that saves lives by maintaining physical distancing. Safely takes reading from upto 3 cms.
Memory function (upto 20 measurements)
Your AIPL Digital Infrared Thermometer comes wit a 20 reading memory storage function, allowing you to conveniently access the last 20 scans made. This is especially handy when you need to maintain a record, especially in hospitals & healthcare, courier, and logistics among other viable scenarios.
LED Large number display
A large LED display ensures accessibility to the user under all lighting situations. A large display greatly helps even when measuring temperature outdoors during the daytime.
Easy battery replacement (2 x AAA Cell)
Powered by easily available AAA batteries, your AIPL Digital Infrared Thermometer has an easy battery replacement system. Easy availability of batteries ensures that your operations never come to a halt and you have a replacement power source handy all the time.
Long Battery Life /Automatic Power Off
A 30-seconds automatic shutdown ensures a longer battery life and reduces the hassle of changing them frequently. It also means that you can focus on your work and leave the power saving to your Digital Infrared Thermometer. The thermometer automatically reactivates whenever you take a new reading.
Lightweight & Compact
With a form factor that is easily to carry and comfortable to hold, AIPL Digital Infrared Thermometer is the right choice in situations where mobile measurements are required.