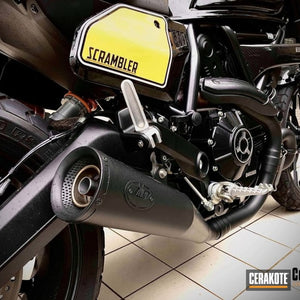 Cerakote GLACIER BLACK C-7600
Description:
Unsurpassed. No other word can adequately describe Cerakote Glacier Black C-7600. Formulated to withstand temperatures up to 1,800° Fahrenheit and thermal shock from those temperatures directly into water with no adverse effects, C-7600 retains its deep black, sleek satin finish in the most extreme environments. Cerakote Glacier Series coatings are a line of air cured, ready-to-spray ceramic coatings.
Application
Easy to apply, single coat, air cure formula
85% solids yields higher coverage than any other high temp coating
Self-leveling properties
*NOTE: This product does not require catalyst. This color does require a 100 Mesh Strainer . VOC Exempt in all 50 states
Performance
Better thermal barrier properties than any other high temperature coating
Industry leading heated and un-heated corrosion resistance
Maximum hot and cold adhesion
Exceeds John Deere JDM F14X1 Class 4 testing for high temperature coatings
Check out the for product application guides, technical data sheets and SDS information.
Please note 1 Ltr is in NIC pack. Other sizes are repacked in smaller bottles by us from the bulk pack.