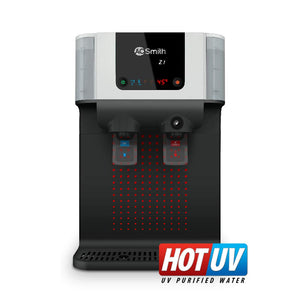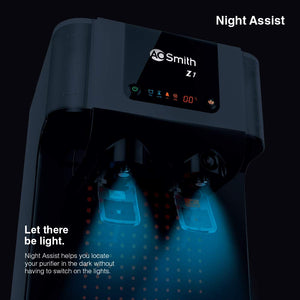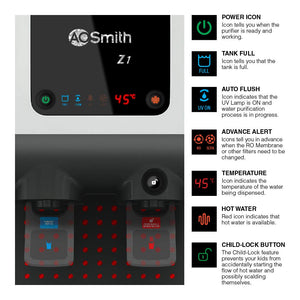 A.O.Smith Z1 UV 10 Litre Wall Mountable, Table UV Black 10 Litre Water Purifier
Colour: Black; Power: 36 watts; Input Water Temperature: 5°C to 45°C ; Material Tank Type : Virgin food -grade ABS ; Input Voltage: 150 – 300 VAC, 50 Hz ; Power rating (Max): 36 Watts ; Pressure Rating: 5 psi to 30 psi ; Heating element wattage: 500 Watts @ 230 VAC ; UV Lamp Power Rating: 11 Watts

Water Purifier Free Installation is applicable up to municipal limit. Beyond municipal limit up-down travel charges will be applicable. Please contact us at 1800 103 2468 or 1860 500 2468 to know about your city service/ installation. Please wait for 24 hrs for brand to connect for metro cities, for rest of the area, please allow 48-72 hours.

Please use a TDS meter to measure your input water source. Can be used for TDS upto 2000ppm

36.9 cms (Length)x 32.6 cms (Width) x 48.2 cms (Height)

1-Year* Warranty on all electrical and functional part, except UV lam and filters (* Z1 model is suggested for TDS up to 200ppm and hardness up to 120 ppm).

Water Purifier, Manual, Mounting Accessories , Tube & Connectors

PURITY THROUGH UV PURIFICATION UV TECHNOLOGY: In A. O. Smith water purifier water passes through Pre-filter + Sediment filter + Silver Activated Post Carbon + UV Lamp + UFSS (For Hot water only).
ADVANCED UV LAMP (ULTRA VIOLET LAMP) UV is a proven Non-chemical, disinfectant technology to give you healthy water. Suitable for water with low TDS.

HOT WATER AT A PRESS OF BUTTON Only UV in India that gives you purified hot water with added minerals at two temperature choices of 45°C and 80°C, which can be used to make quick cup of tea, preparing baby food, soaking cereals, soothing sore throat, etc.

INDIA'S FIRST UV WITH NIGHT ASSIST Glow effect guides you to your water purifier at night and makes your kitchen look good.